ABSA International's

2nd Biosecurity Hybrid Symposium
May 3-6, 2022

Renaissance Minneapolis Hotel, The Depot
225 Third Avenue South
Minneapolis, MN 55401
The hybrid symposium will consist of papers, presentations, keynotes, posters, valuable networking opportunities, and in-person exhibits. Attendees may register for the in-person event or the virtual event.
ABSA International's 2nd Biosecurity Hybrid Symposium will gather biosecurity professionals from a wide range of disciplines with varying expertise to share their experiences and knowledge and to learn from each other. The agenda includes themes on biosecurity governance, implementation, personnel reliability, bioeconomy, biosecurity in DIYbio communities, biosecurity training, cyberbiosecurity, and interactive discussions on lessons learned and public engagement for the future. The symposium will showcase thought-provoking leaders and pioneering researchers from various traditional and non-traditional fields that intersect with biosecurity. A segment on new and emerging topics in biosecurity will also be featured.
Biosafety and biosecurity professionals, defense contractors, emergency responders (both human and agricultural), government employees, law enforcement personnel, security personnel, policymakers, regulators, researchers, students, and other interested parties. Attendees may register for the in-person event or the virtual event.
Registration open for in-person AND virtual attendees.
All in-person attendees must sign a COVID-19 Code of Conduct stating that they are currently up to date with vaccinations against SARS-CoV-2 following CDC recommendations. In-person attendees will submit this document as part of the symposium registration process. In addition, there will be safety protocols at the hotel including safe food distribution and appropriate social distancing measures.
Please download and sign the COVID-19 Code of Conduct and have a scan of it ready to upload BEFORE you start the registration process.
COVID protocols will be finalized according to CDC guidelines 2 weeks prior to the symposium date.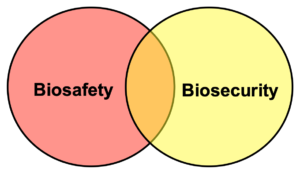 Biological security, biosecurity, is the risk- and threat-based control measures established to prevent the unauthorized access, misuse, loss, theft, diversion and intentional release of valuable biological materials, pathogens, toxins, information, expertise, equipment, technology and intellectual property that have the potential to cause harm to humans, animals, plants, the environment, public safety or national security.