ABSA International's

1st Biosecurity Virtual Symposium
April 21-22, 2021

The Symposium will consist of papers, presentations, keynotes, posters, valuable networking opportunities, and exhibits.
ABSA International's 1st Biosecurity Virtual Symposium will galvanize and bring together biosecurity professionals from a wide range of disciplines with varying expertise to share their experiences and knowledge, and to learn from each other. The agenda includes themes on biosecurity governance, implementation, personnel reliability, bioeconomy, biosecurity in DIYbio communities, biosecurity training, cyberbiosecurity, and interactive discussions on lessons learned and public engagement for the future. The symposium will showcase thought-provoking leaders and pioneering researchers from various traditional and non-traditional fields that intersect with biosecurity. A segment on new and emerging topics in biosecurity will also be featured.
Biosafety and biosecurity professionals, defense contractors, emergency responders (both human and agricultural), government employees, law enforcement personnel, security personnel, policymakers, regulators, researchers, students, and other interested parties.
Why is ABSA getting involved in holding this symposium and creating a credential?
ABSA International is "The Association for Biosafety and Biosecurity." As science becomes more interdisciplinary, recognizing and defining the synergistic roles of biosafety and biosecurity have never been more paramount. ABSA currently supports an international, credentialed work force with expertise in mitigating the safety risks associated with life sciences research, pharmaceutical production, education, and other industries. ABSA recognizes that this expertise includes a substantial and ever-increasing focus on biosecurity. This inaugural biosecurity symposium will provide support to these biosecurity professionals and define the competencies which will compose a new, ABSA-sponsored, professional certification in the field of biosecurity.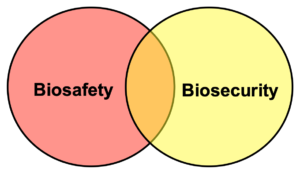 Biological security, biosecurity, is the risk- and threat-based control measures established to prevent the unauthorized access, misuse, loss, theft, diversion and intentional release of valuable biological materials, pathogens, toxins, information, expertise, equipment, technology and intellectual property that have the potential to cause harm to humans, animals, plants, the environment, public safety or national security.
Full Symposium Registration
March 23, 2021 or before
Members: $450.00
Nonmembers: $650.00
March 24, 2021 or after
Members: $500.00
Nonmembers: $650.00